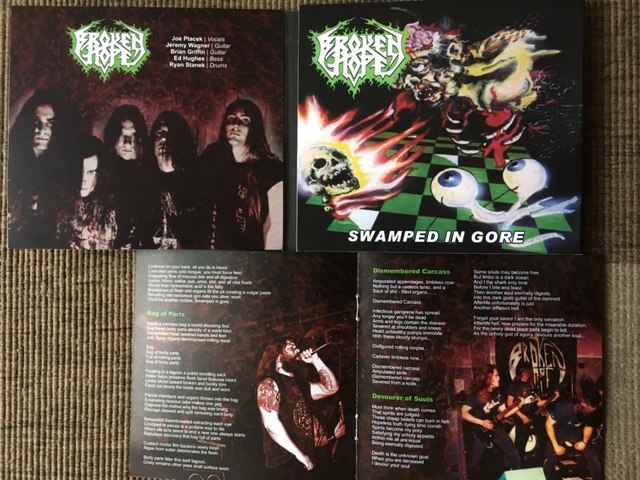 先週ようやく到着して以来、ずっとプレイヤーに入っている一枚。
(添付したyoutube音源は非リマスター音源です)
 デジパック仕様、ボーナスでデモ#2も収録されたリリース25周年記念盤。
前回ご紹介したオハイオの Gutted 同様、ミドル〜スロウテンポで攻めるスタイルを実践していた初期US Death Metalの持つブルタリティは凄まじいものがあることを再確認しました。
 タイトさとスロッピーさが同居する素晴らしく怪しい演奏(メンバー全て、技術は確かです)、粘着するリフとこの時代('91)においては正に "inhuman" な咆哮、、、完璧なデスメタル・アルバムのひとつです。
 ライナーには Frank Rini ( Internal Bleeding ) が的確に Broken Hope を捉えたバンド評があり、その行間から愛情が染み出ているのも Broken Hope を聴き続けてきたものには堪らないものがあります。
 現在も続くブルタルデス、スラムを聴いている方で未聴の方がいましたら、いい機会ですので是非今回のリマスター盤を手に取ってみてください!
・All material remastered by Sidney Sohn
・Marquee Records.



----------- Recent PlayList 20/Oct.2016 -----------------------

・Broken Hope - Swamped In Gore + demo #2. CD.(Marquee)

・Mayhem - Mediolanum Capta Est LP.(Avantgarde Music)

・Mayhem - Wolf's Lair Abyss MLP.(Misanthropy)

・Man Is The Bastard - Live @ Fiesta Grande 1&5 CT.(Ormolycka)

・FU's - My America 12ep.(Xclaim!)

・Darkthrone - Soulside Journey LP.(Peaceville)

・Mayhem - Grand Declaration Of War LP.(Season Of Mist)

・Blood - Febrile Massacre: The Singles Collection CDr.(not out yet new bootleg)

・Blasphemy - Gods Of War LP.(Osmose)

・Blasphemy - Fallen Angel Of Doom LP.(Wild Rags)


Blasphemy,..... SHEER INTENSITY!!!!!!!